Lucia Politi
May 24, 2021 · 5 min read


Ex Novo – Science behind the scenes
"Ex Novo – Science behind the scenes" is a series of articles born within ISA's blog in collaboration with the Collegio Nuovo – Fondazione Sandra e Enea Mattei in Pavia, whose students community is marked by a strong presence of women in science. Science is research, long hours to carry out experiments in the laboratory or in the field, but science is also communication, grant writing, entrepreneurship, administration, teaching, project management, leadership and many other facets. We will post articles, interviews and short stories on these multiple aspects of the scientific endeavour. Should you like to contribute with your experience, do not hesitate to get in touch with Michela, ISA's Head and Collegio Nuovo Alumna, here: michela.bertero@crg.eu.
Scientific publishing and superheroes
I am writing this article because it is about something I needed to reflect upon some (well… probably more than "some") years ago, when I was ready to leave the biomedical lab bench, but I was not sure I would be able to do so.
I profoundly enjoyed my years on the typical University pathway (Ph.D., post-Doc…). Then, I moved to the organization and management of continuing education in a private company and, finally, I started working at a scientific publisher, where I was able to combine the basics of scientific writing I learnt when I was doing research and the management skills I acquired in the private firm. Nowadays, every day, I write manuscripts for other scientists, and comment, review and manage publishing procedures of papers from different authors.
The scientific publishing field can be a natural follow-up of your career if you find yourself in that limbo where you have a sound, very specific scientific background, but you cannot or you do not want to be at the bench anymore, and you enjoy writing, of course. In my case, I decided to move to medical publishing. However, two great problems might arise: on one side, scientific/medical publishers are challenging to approach when applying for a new job, and, on the other, regarding the more practical "hands on the keyboard" stage behind publishing, medical writers are often considered never good enough at using the vocabulary of specific biomedical fields. The good news is that both problems can be tackled with success.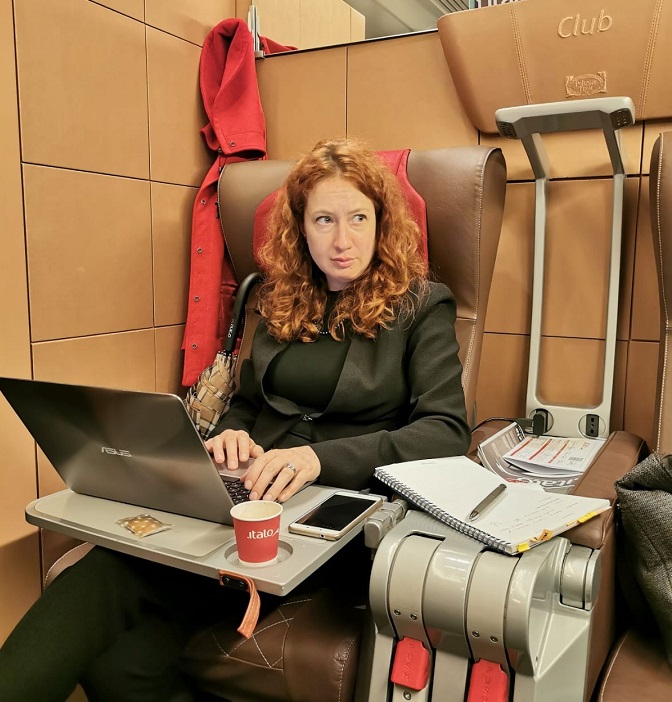 Figure 1. Lucia now a professional medical writer on a train with her coffee.
On the first challenge, you can take into consideration also small or niche biomedical publishers that are much easier to approach (I am not the right person to give hints on how to become a staff member of the New England Journal of Medicine). In my case, the project management tools I learnt while working in a private company were useful in monitoring publishing procedures, one of my daily tasks these days. Working across different therapeutic areas and settings is exciting and mind opening, especially when you can cooperate with international "crème-de-la-crème" scientists in their particular field. As it happens, when you personally meet top-class researchers after reading dozens of their papers, you find out there is so much still to learn from those people. Being reminded of my own ignorance is something I like and I recommend everybody to practice regularly. Developing projects from A to Z typically gives great satisfaction. Do you remember the feeling of being the owner of several facets of your research as something you appreciated (or you are currently appreciating) during your Ph.D.?
Going to the second challenge, on the non-existence of good medical writers, every writer of a scientific paper already knows to a certain extent all the rules and how to deal with the different steps of the publication. Finding the right words and semantics for the manuscript simply implies reading and studying the literature, which is still one of my favorite moments, even if it can take much more than the time I have.
In my case, when I started writing papers, I had a very good teacher, who encouraged me to read a lot, to "follow" the best writers in the area (around the year 2000, it was not called "follow", but "remember to keep an eye on" or "have you recently searched that writer on PubMed?"), and to critically examine other people papers.  He also encouraged me to learn and understand the revision mechanisms of a manuscript. It simply helps in anticipating comments and questions and to write clearly since the first draft. I have always considered that my responsibility as a reviewer for journals is one of the most constructive duties, since it also helps me to develop a self-critical ability and meticulous structure in writing. Obviously, thinking as a reviewer is extremely helpful when you are writing for others and when you are editing manuscripts.
It is also important and interesting that you keep further developing your skills in writing and editing to find out "more tricks of the trade", such as new tools and software. Just search for "biomedical writing" in PubMed and you can spend hours deep diving in the topic. Something that I enjoyed reading is how machine learning was used to provide tips in writing for being cited more. Keep your title within 10 ± 3 words and involve at least 5 co-authors1!
We are also witnessing new developments since the appearance of the pandemic. It was highlighted since the beginning2 how the COVID-19 pandemic is modifying scientific literature procedures and outcomes: unprecedented levels of international collaboration are observed3 as well as an increment in the views per article4. Manuscripts have been submitted and accepted at accelerate pace, that was priceless for the medical community; nevertheless, the impact of this unseen pace of publishing on literature quality is at least not clear5 and a reshaping of the whole publishing process will probably be needed.
Finally, when you start looking for various articles in PubMed, your chances to find something funny dramatically increase. Did you know that vitamin D deficiency might have had an impact on the Lord of the Rings final6? An interesting paper put forward the hypothesis that in fantasy literature the defeat of "bad" characters is not due to narrative conventions, but rather to their lack of exposure to sunlight and consequently of vitamin D and reduced power. Or that Darth Vader pulmonary pathology (we all remember his breathing sounds under the black armored suit) was investigated7? And Batman? His training to reach superhero powers was estimated to last between 15 to 18 years8… probably the same as any other good professional, with no need to bother Malcolm Gladwell's "Outliers" theory9 on the importance of practice and skill development. My take home message: train a lot in writing and you will become a superhero! And, if you ever happen to get an idea on Hobbit, Imperial, Superheroes related research, please consider me as your writer!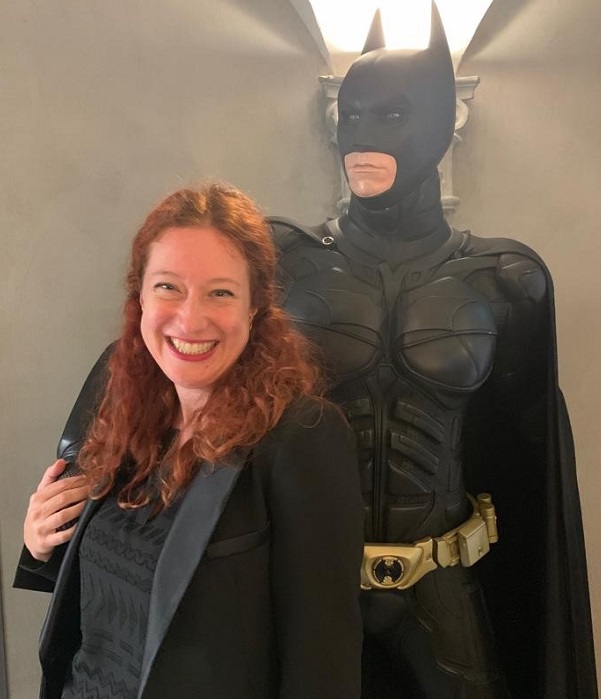 Figure 2. Lucia with Batman.
References
Elgendi M. Characteristics of a Highly Cited Article: A Machine Learning Perspective | IEEE Journals & Magazine | IEEE Xplore. Accessed April 19, 2021. https://ieeexplore.ieee.org/document/8753655
Callaway E. Will the pandemic permanently alter scientific publishing? Nature. 2020;582(7811):167-168. doi:10.1038/d41586-020-01520-4
Sohrabi C, Mathew G, Franchi T, et al. Impact of the coronavirus (COVID-19) pandemic on scientific research and implications for clinical academic training – A review. Int J Surg Lond Engl. 2021;86:57-63. doi:10.1016/j.ijsu.2020.12.008
Giustini AJ, Schroeder AR, Axelrod DM. Trends in Views of Articles Published in 3 Leading Medical Journals During the COVID-19 Pandemic. JAMA Netw Open. 2021;4(4):e216459. doi:10.1001/jamanetworkopen.2021.6459
Ferreira JP, Epstein M, Zannad F. The Decline of the Experimental Paradigm During the COVID-19 Pandemic: A Template for the Future. Am J Med. 2021;134(2):166-175. doi:10.1016/j.amjmed.2020.08.021
Hopkinson JA, Hopkinson NS. The hobbit – an unexpected deficiency. Med J Aust. 2013;199(11):805-806. doi:10.5694/mja13.10218
Plovsing RR, Berg RMG. Pulmonary Pathophysiology in Another Galaxy. Anesthesiology. 2014;120(1):230-232. doi:10.1097/ALN.0b013e31829c2dfb
Minkel JR. Dark Knight Shift: Why Batman Could Exist–But Not for Long. Scientific American. Accessed May 18, 2021. https://www.scientificamerican.com/article/dark-knight-shift-why-bat/
Outliers (book). In: Wikipedia. ; 2021. Accessed May 18, 2021. https://en.wikipedia.org/w/index.php?title=Outliers_(book)&oldid=1019144675