Jonas Krebs 
Oct 31, 2019 · 3min read
"The future of orchestras in East Germany" is not a topic I reflect on very often. Still, it sticks in my head since my first visit of a science slam in Berlin around 8 years ago. I was immediately fascinated by the concept of seeing scientists on a stage in a crowded bar or club, sometimes with a bottle of beer in their hand, and not only educating but also entertaining a lay audience with their research. Similar to sport competitions people in the audience could give points for each slam to vote for a final winner, making it also for the audience a very engaging event.
The visit of science slams became soon a regular activity in my agenda and I learnt a lot about organ-on-chip technologies, the formation of sun winds or the "Barnum" effect.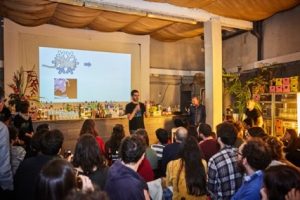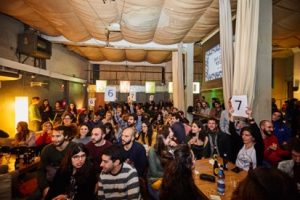 What is it, that makes a science slam so fascinating and so different from other scientific presentations? I would only find out some years later in 2017 at another place, at CRG in Barcelona, where I started to manage the European Training Network OPATHY. Together with my colleague Damjana, training coordinator at CRG, I discussed the structure and content of a training course in science communication that we wanted to offer to the PhD students in the network.
Also Damjana recently came from Germany and was a big fan of the Science Slam format, so we soon came up with the idea of organizing a science communication training course in combination with a public science slam event at the end. The workshop participants should get the chance to directly apply in praxis what they had learnt before. I had already a rough idea about the essence of a great science slam talk, but only when I participated in Damjana's inspiring training course myself, preparing my own science slam talk, I finally noticed, what it is: the avoidance of specific jargon, the use of well-chosen pictures and metaphors to explain a complex topic, and most importantly: the right balance of humour and education. Science slams are not a pure comedy show, the audience should also leave with some new scientific knowledge.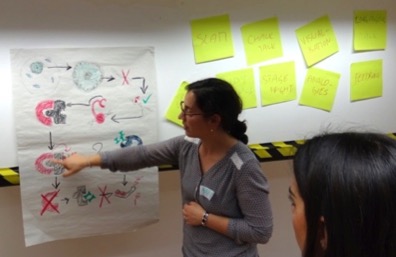 This first science slam organized on our own was a big success and Damjana and I decided to continue offering the science communication/ science slam preparation course under the brand "BCN Science Slam". In the meantime, we have organized the 5th edition with various collaborators like the Barcelona Institute for Science and Technology (BIST), the City Council of Barcelonaor the Marie Curie Alumni Association (MCAA), with which we even co-organized a European Science Slam final, with researchers from all over Europe.
A science slam is a wonderful format to bring science closer to the general public and fascinate it with the thrilling stories researchers can tell. I hope that in a not too far future half of Europe sits one evening of the year at home in front of the television and does not vote for their most favorite song during the Eurovision Song Contest, but for the most inspiring slam during the Eurovision Science Contest.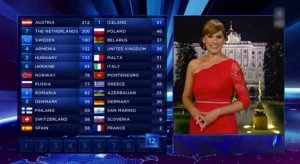 If you got curious, search for the next science slam event in your city. In Barcelona, you can follow us on FaceBook or Twitter and get involved in future editions of the BCN Science Slam.